Project NoWaste
WHAT
3D waste reduction system for maker shops everywhere.
WHY
As designers, we have a duty to design for the future, and that encompasses the act of prototyping and processing through a concept, sustainably and efficiently.
HOW
Creating a 3 part system to be integrated in marker shops that allows for students and makers to be more aware and involved in the process of 3D printing, through research, user testing, and implementation.
View Full Research PDF
Due to the COVID-19 outbreak, I won't have the opportunity to implement this into the maker spaces on campus. However, the added challenge inspired me to try to facilitate the ability to replicate and adapt this system to maker spaces anywhere.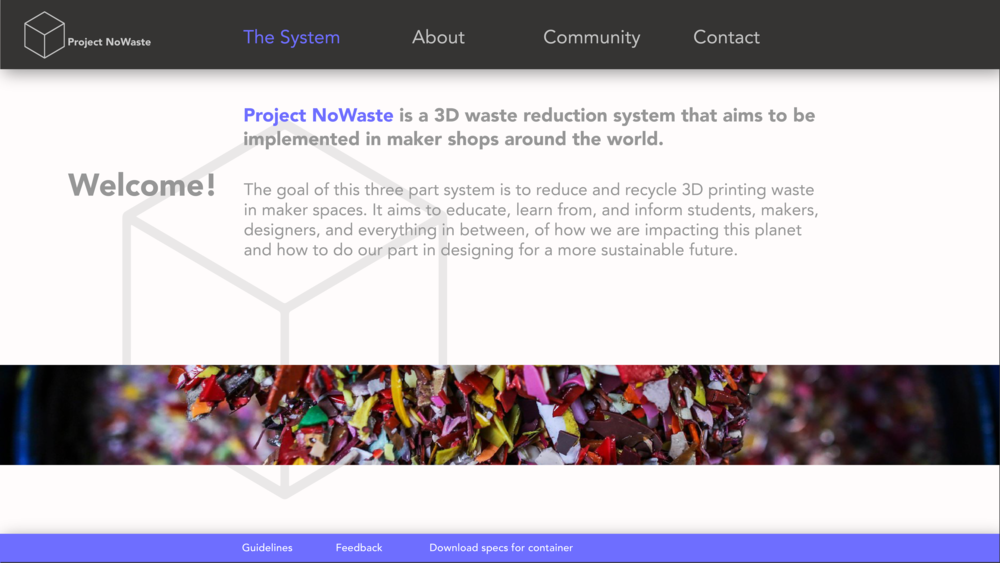 Part 1

Guideline Board


It aims to guide the student towards a more knowledgeable understanding of the limitations of 3D printers, as well as how to design a model that will not fail, as well as reduce the use unnecessary supports. The goal is to refer to this board as you are designing, and hopefully it will help you avoid mistakes.
Part 2

Feedback Sheet


It aims to give the student or designer feedback so that they can have a better understanding where their model might fall short, and so that they can improve their next prototype. It also allows them to get feedback without having to interact with the monitors, yet still allow them to connect with the process that it took for their models to be printed.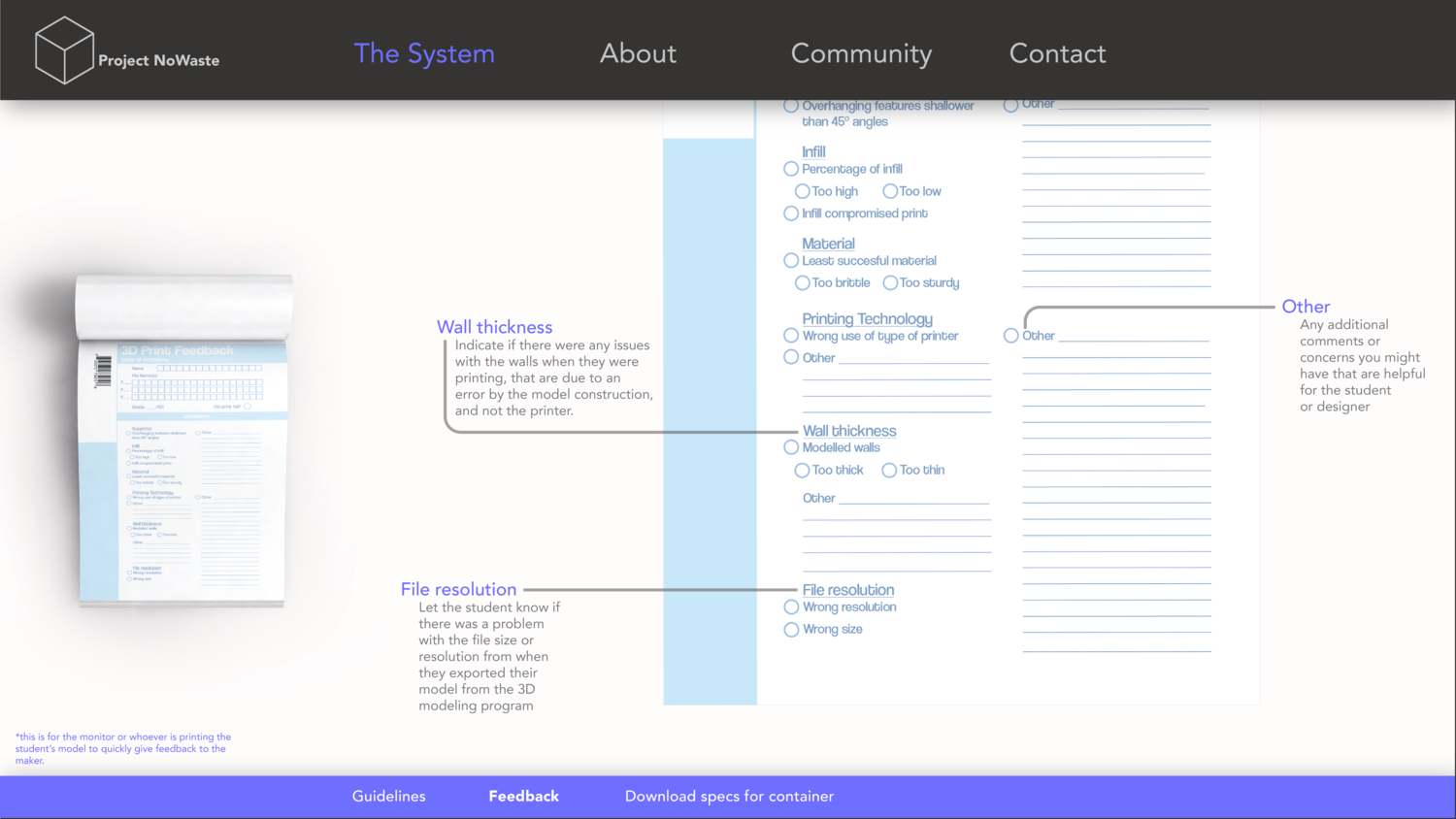 Part 3

Container


While the main goal is to reduce the waste of 3D printing, as designers, we often find ourselves in need of multiple iterations to test out ideas and prototypes.

Now instead of throwing the other iterations, prints and supports in the trash, you can now collect the waste in a container, that once filled, can be processed to be recycled into more filament for your printers.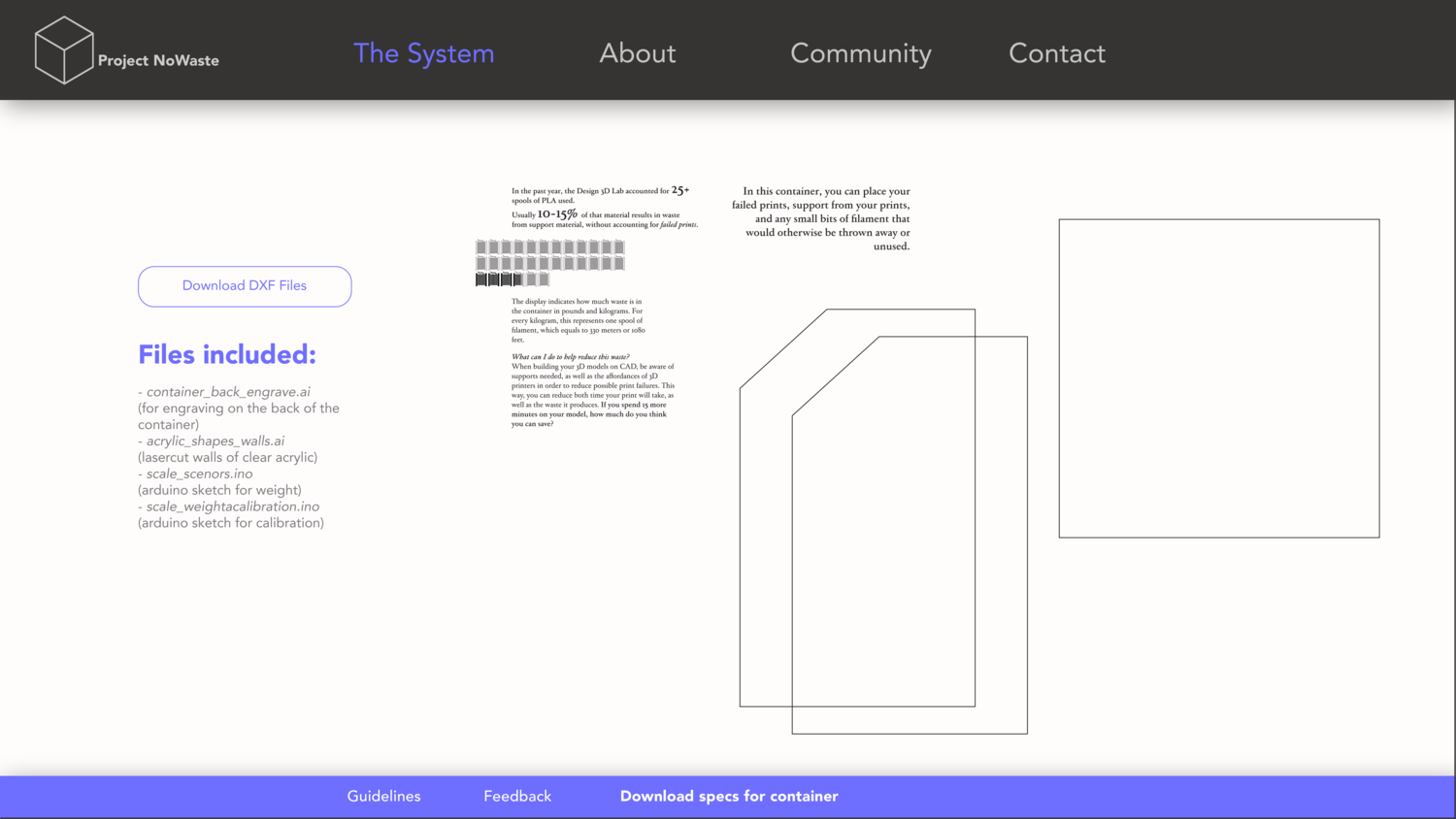 Community Pages


I also added a community feature where makers from all over the world can share their solutions and projects to help those with less experience.

Here people can also share their incentives and passions, as well as ways that they're trying to reduce and recycle their waste, as well as the progress they have me.
POST A QUESTION
Here you can post a question if you need help when making a project, whether you need advice, want a different perspective, or just some feedback. You can post your question and attach photos, code, videos, or files, and get quickly get answers. You can always look at the topics of the week for inspiration and exploration
PROJECTS
On this page you can look at other people's projects and see what their process was when working through their issues. This is a good way to look for answers before posing your question, or even refering back to those projects if you think your question or problem can be solved similarly.
PREVIOUSLY ASKED QUESTIONS
Here the posts focus more on questions that need to be resolved or have been resolved instead of just projects in general. You can share you knowledge, or again see the ways people have worked through a challenge, or other user's tips for those questions.
PROGRESS
This page focuses on the larger community engagement, where maker shops can share their progress in waste reduction. This can range from lowering the amount of waste produced to recycling more waste.
BY HAVING THESE CONVERSATIONS AND THIS EXCHANGE OF IDEAS AND INFORMATION, WE HOPEFULLY CAN MOVE TOWARDS DESIGNING FOR A BRIGHTER AND LESS WASTEFUL FUTURE.